As a writer, I need to be able to picture my characters. This is especially important for my main characters, my heroes and heroines. Maybe it's because I'm visual or maybe it's because I have a fan fiction background, but actors have always served as inspiration for me. This week's FFF is dedicated to some of those men in my fan fiction works.
The first romance I wrote was in the Robin Hood BBC fandom. I have always had a thing for men with pretty eyes and eyelashes. Don't know what it is about them, but it's one of the features I love best about my hubby (Shh! Don't tell him—he thinks it's his biceps!). Allan A'Dale, played by Joe Armstrong (whose daddy, ironically named Alun, is a well-known British actor) caught my eye almost immediately. His was the first character we met in the series; his face, and those gorgeous eyelashes, one of the first things we see. Allan was the hero of The Thief, my first novel-length fan fiction.
The second book in my Thieves series, Den of Thieves, focused on the growing relationship between Allan and my original character, Deirdre. I did, however, add a secondary love story, as well as adding a bit of a triangle to the Allan/Deirdre romance. The secondary love story had a hard man to love at its center, Guy of Gisborne (I spell it Gisbourne in my series). He was a bit more difficult to work with for me, as I tend to like the sarcastic, cheeky characters a bit more than the serious ones. I paired him with a young woman who's life had already been filled with tragedy, Adelaide. Sir Guy was played by Richard Armitage.
The third angle of my love triangle was my first original male romance hero. At first, no one liked Ruarc O'Brian. He was not only cheeky, he was downright obnoxious. Of course, he was trying to win my heroine, Deirdre, away from the hero, Allan, who was actually a character from the fandom. We later discover why he acts the way he does and he becomes the tragic hero; in fact, many of my readers began to want my heroine to run away with him. Gerry Butler was the inspiration for Ruarc.
Another of my favorite actors is Kavan Smith, who played Major Evan Lorne in Stargate Atlantis. Another man with gorgeous eyes, and another underused character. Lorne was the 21C of the Atlantis Expedition and was always saving the hero of the show's butt. Major Lorne was usually quite solemn, very dedicated to his job and his position, but the first time we see him, he is trading barbs with another character. Those hints of his dry sense of humor were what drew me to Lorne (outside of the lovely eyes, of course). The first time I remember seeing him was in SGA, despite the fact that his character first appeared in a single episode of Stargate SG1. Evan Lorne became the love interest in my third finished/fourth overall novel-length fan fiction, In the Blood.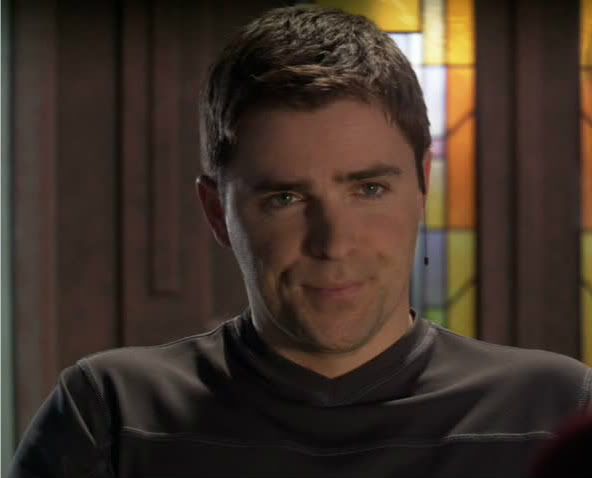 Finally, we come to Ryan Robbins, who appeared as Ladin Radim in SGA, but whose character Henry Foss in Sanctuary is the one who actually stole my heart. Henry is definitely a cheeky chappy and we realize this from the get-go. He'll give you his opinion, but if you don't want to take it, it's on you, he's done all he can. I actually liked Henry more before we found out that he was a HAP (Hyper Accelerated Protean life form)—that's a werewolf to you and me. I didn't much care for the special effects of his wolfy form. I have not posted any romance stories involving him, but I have posted a couple of little humorous one-shots (short short stories) with him at the center. If you go looking for them, they are on fanfiction.net--Cupid and Forbidden.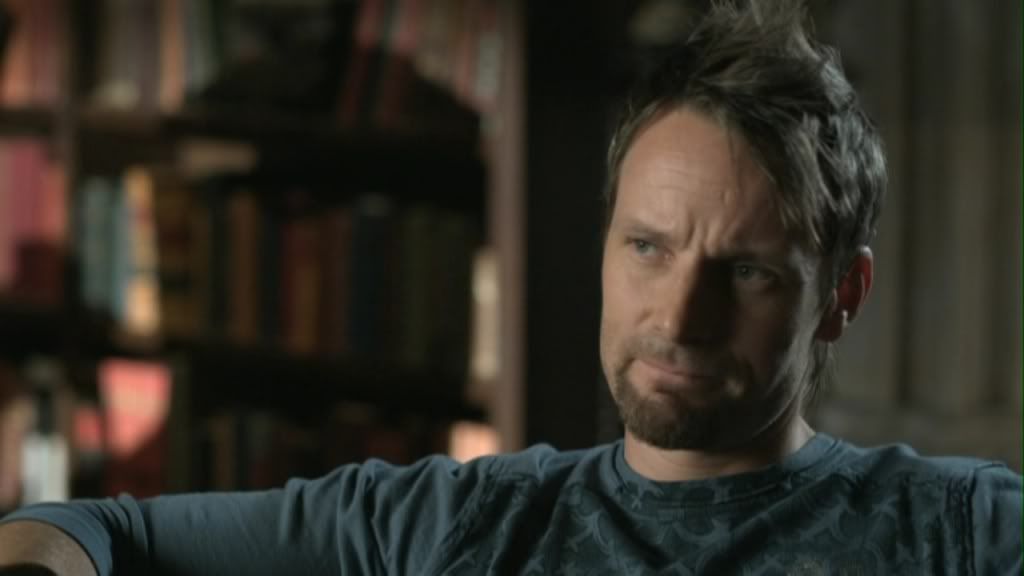 There are other inspirations, both in fandoms and outside of them, but that's a post for another week. Enjoy!
(All screen shots captured by me from DVDs I own. For entertainment purposes only. No copyright infringement intended. Please buy the DVDs if you are interested in the shows--Robin Hood BBC, Timeline (Ruarc), Stargate Atlantis, and Sanctuary are all available from local retailers or online.)