If using a now old-fashioned film camera, film MUST BE INSERTED into the camera in order for it to work. I had to learn this lesson twice—I'm smart, not necessarily bright sometimes, though. I thought that digital would be my savior when it came to keeping me from mistakes of this magnitude. I was wrong.

When using a high-end camera with a lens, one must remove the lens cap for proper photo taking.

When taking photos with a digital camera, one must be sure that the little card thingy (yes, that's what I call it—don't judge) is NOT FULL.
Lesson 1, A: Learned on a cross-country road trip when I was 22 or so. Took lots of great photos of the Mississippi River and that area. Too bad they did not get saved to film.
Lesson 1, B: Learned at Lake Tahoe, on the trip where my now-hubby proposed to me. What a beautiful lake and such a pretty park where he proposed. It's a shame they're only in my memories now.
Lesson 2: Our last month living in New Jersey, before moving back to Florida, there was a huge snow storm (the President's Day Blizzard). The kids, knowing that this was their last chance to play in snow, took advantage. I got a really cute shot of my 2 year old in his snow suit, hiding in a little snow cave he and his brother had made. Unfortunately, we didn't discover that I'd forgotten to remove the lens cover until later on.
Lesson 3: We left out of here yesterday morning, bright and early. I was all proud of myself for having not one, but two, cameras ready to go—batteries fully charged, card thingy in the big one. We arrived at the graduation just over an hour before graduation and get great seats right up front. Hubby decided that it was too early and we trotted off to get some McBreakfast. By the time we got back, it was standing room only (outside). **sigh**
I managed to finagle my way up front and started taking video with my Flip camera, but it was just not powerful enough to get details. My younger boy had the big camera and he told me that it wasn't showing the pics he had taken. I took it and it seemed to work fine, except for not displaying the pics, so I shrugged and decided I'd figure it out later; for now, I had pics to take. I video taped four speeches and the teen's friend (my 3rd child for the rest of the week while his mom is out of town) receiving the award for Honor Cadet for his company. I shot photos of the boys with their C.O. and the C.O. of E's SERE training.
I got home and downloaded the pics, and—nothing. Turned out the card was full. Luckily, hubby had taken a couple of pics of the boys with the SERE commander with his smart phone, or we'd have nothing usable. I told him that next time, he's in charge of the photography.
Here's what I got on my phone (faces of the kids have all been whited out for their privacy):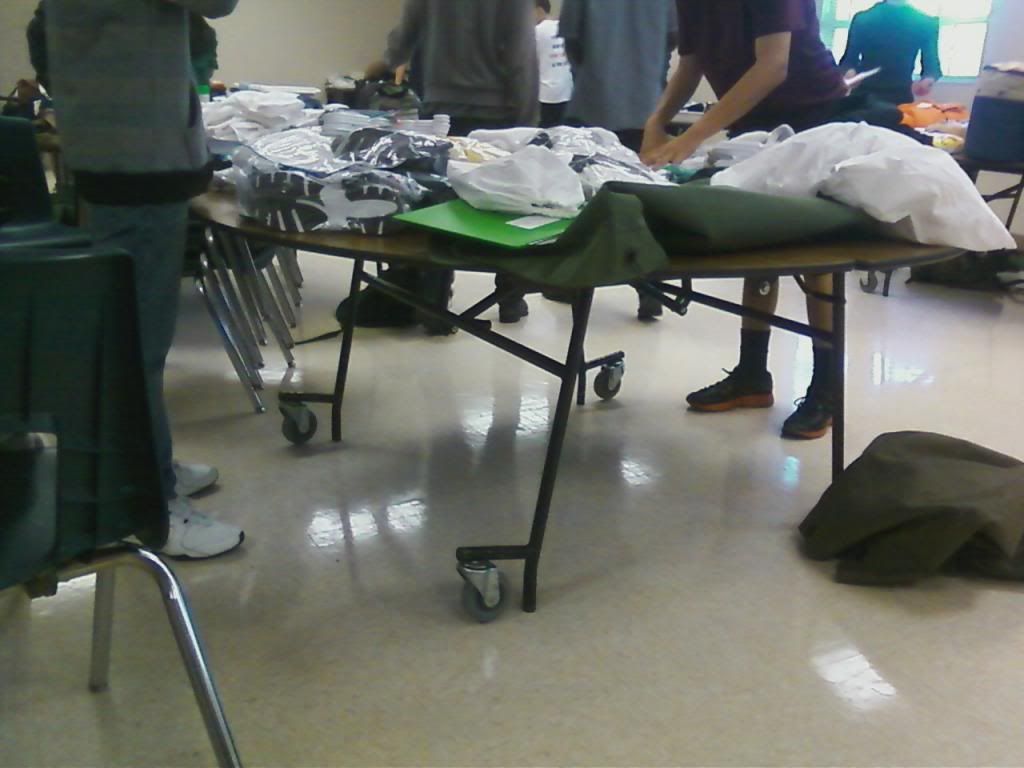 Seabag Inspection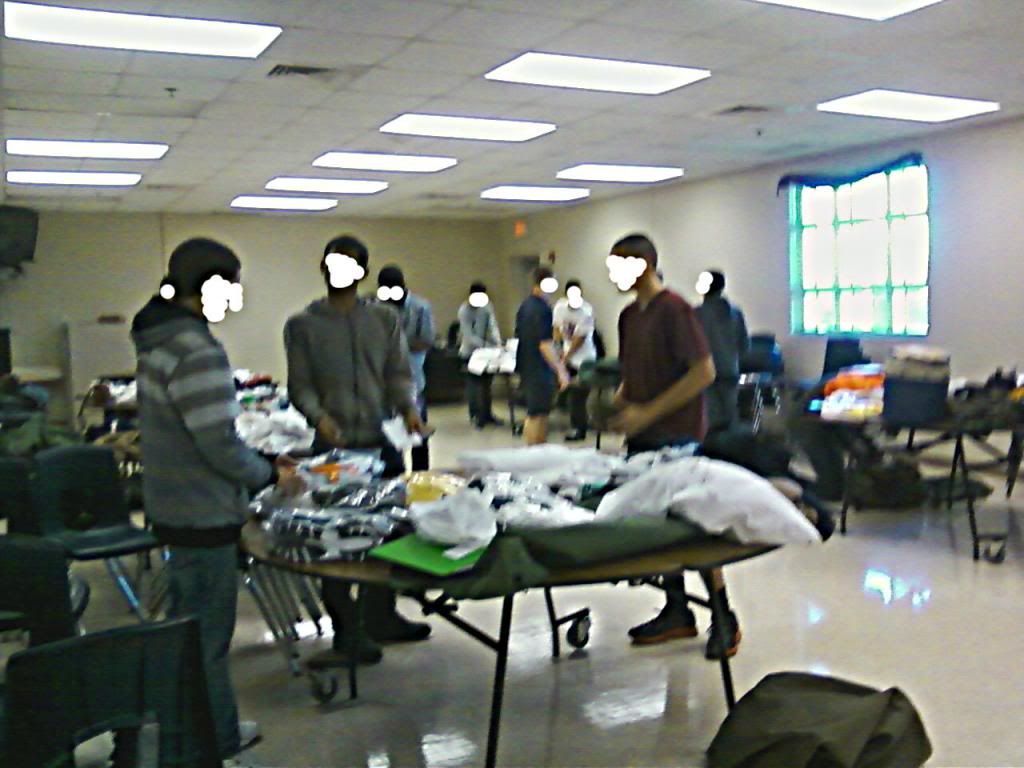 Seabag Inspection
Here's photos taken by one of the staff on a field trip to the SEAL museum in Ft. Pierce: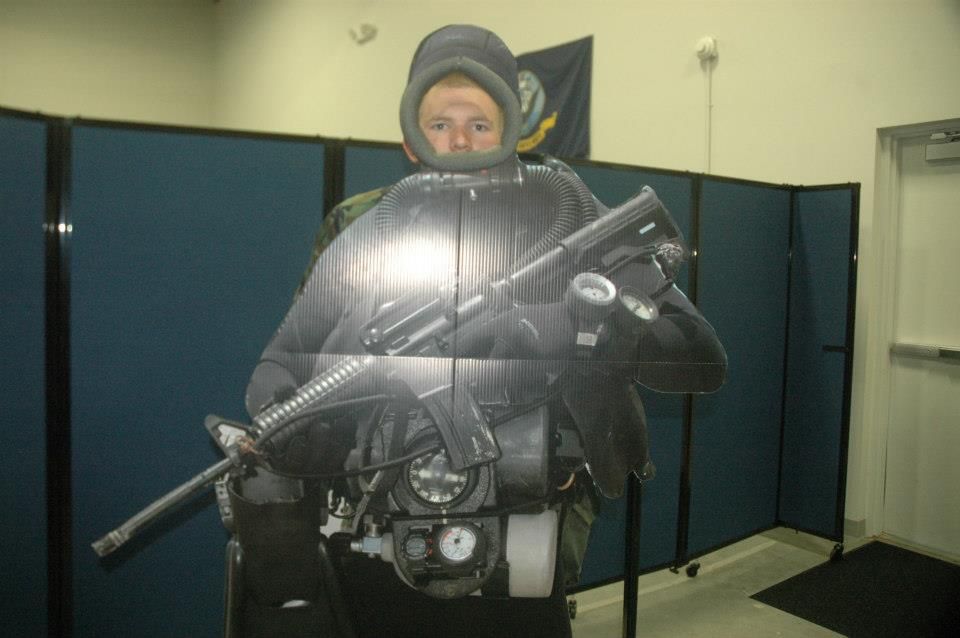 LOL!
He likes him some weaponry!
Here's what hubby got (again, face whited out for privacy):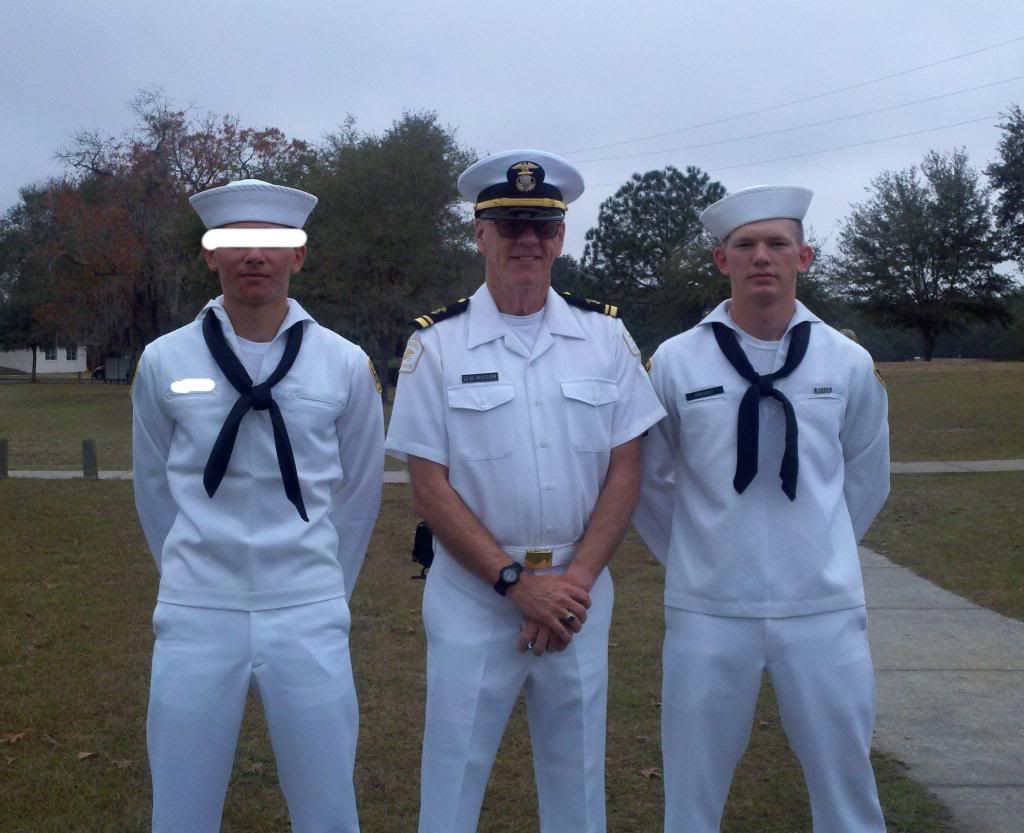 So, not a total loss, but I do wish I was more photo-savvy.